Our Back to Fun Book Fair is in full swing! Great products featuring children of color will be waiting for you to explore. Bring your children for a variety of choices in notebooks and backpacks, all featuring children of color. We are happy to announce that Me'sha Bazemore will be in attendance with her wonderful Cocoa Twins backpacks and notebooks. Her artwork will delight and inspire you.
---
Cocoa Twins was imagined by a set of 9 year old identical twins named Brianna and Brittney while shopping for school supplies in 2016.
After a very exhaustive search for notebooks with super cute images on them, they began to notice an abundance of supplies with non-brown boy and girl images on them, but instead of becoming angry or sad they turned to their mother, Jamesha Bazemore and asked, "Can you draw pictures for us and put them on our notebooks?" She replied, "ABSOLUTELY!"
The girls and their mom began their magical black girl journey into developing illustrations that the girls could relate to, such as princess emojis with afro puffs and different color crowns to represent each emotion.
From there Jamesha decided to create images that she could relate to as well, which lead to the creation of beautiful images of women and men of color celebrating love, self-awareness and life.
The mission of Cocoa Twin's is to do what we love with a purpose, to share our love of art with others and to continue creating positive, reaffirming, fun-loving and beautiful images of people of color.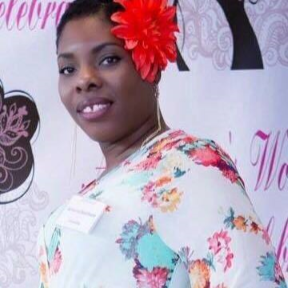 Back to Fun Book Fair: Me'Sha Bazemore and Cocoa Twins