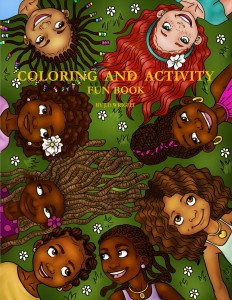 We create our own world.
Dana Clark, LLC is a small business whose children's products are being enjoyed by families all over the world.
Our Mission:
To empower children with activities of self-confidence and supply them with journaling tools that depict positive self-images.
Our Original Products:
We provide a series of coloring books creatively displaying children's themes on lifestyles and fantasies. Our activity books are designed to unlock a world of possibilities for children and parents. It allows children to think about their choices with great esteem and gratification.
Our Values:
We value inclusion and self-love. We want children to see themselves as the heroes celebrated in our Books. We want them to recognize the heroes in themselves. We believe our products are of this caliber and will achieve that goal. We all matter.
As an organization we believe that we can join the legions of gatekeepers who shape the minds of our children including their freedom of creativity, their pride and self-esteem. In raising better circumstances for us all we must start with the children. We all matter and we can create our own world.
Our Current Objectives:
Supplying schools with our products while at the same time assisting them with funding.
Developing "How to" seminars teaching our practices to others for the global growth of the Inclusion Movement.
Creating a line of school supplies and stationery to add to our growing catalog.
The translation of our books into other languages (starting with Spanish and Dutch).
We look forward to working with those whose contributions help capture the beauty of our children and we hope that our success inspires your own creativity.
Thank you for taking the time to learn about us.
J.D.Wright
Creator