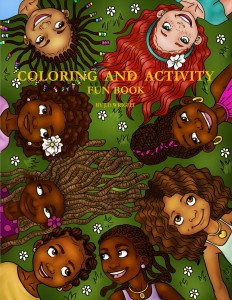 We create our own world.
Dana Clark, LLC is a small business whose children's products are being enjoyed by families all over the world.
Our Mission:
To empower children with activities of self-confidence and supply them with journaling tools that depict positive self-images. To empower parents with journaling tools and online courses.
Our Products:
Coloring Books and Journals
Online Courses
Book a Session via Face Book Messenger
Free Webinars
Our Values:
We value inclusion and self-love. We want children to see themselves as the heroes celebrated in our Books. We want them to recognize the heroes in themselves. We believe our products are of this caliber and will achieve that goal. We all matter.
As an organization we believe that we can join the legions of gatekeepers who shape the minds of our children including their freedom of creativity, their pride and self-esteem. In raising better circumstances for us all we must start with the children. We all matter and we can create our own world.
Our Current Objectives:
Supplying schools with our products while at the same time assisting them with funding.
Developing "How to" seminars teaching our practices to others for the global growth of the Inclusion Movement.
Creating a line of school supplies and stationery to add to our growing catalog.
The translation of our books into other languages (starting with Spanish and Dutch).
We look forward to working with those whose contributions help capture the beauty of our children and we hope that our success inspires your own creativity.
Thank you for taking the time to learn about us.
J.D.Wright
Creator
In Stores
Sankofa Video Books & Cafe

Coffee cafe & bookstore in a relaxed space focused on the African diaspora & third-world countries.

MahoganyBooks 1231 Good Hope Rd. SE Washington, DC 20020 (Located inside the Anacostia Arts Center)

MahoganyBooks.com  MahoganyBooks is an online bookstore that believes in social entreprenuership. We take a leadership role in the African American community promoting reading, writing, and cultural awareness as tools to improve communities as well as enrich the lives of motivated individuals. Phone: 703-730-3873

Shades of Afrika
Let us know what questions and/or feedback you have for us. We will follow up with you.
Thanks! We look forward to hearing from you.
[ninja_forms id=1]